100BANG
100BANG is a service platform for the purchasing agent services of Korean products for customers in China and around the world.
100BANG means 'all possible means' in Chinese characters and means a shopping solution that finds out all the products
that customers want to purchase by '100Bang'.
100Bang introduced Q-commerce (Question-Commerce), the industry's first question-based commerce method,
it provides services that customers can find and buy whatever they want with '100Bang'.

Ask, Relax and Buy!
http://www.100bang.co.kr

Major Brands Category : Corresponding site handling products(all categories)
Key Customers : China and Global Sellers & General Customers
Target countries : Greater China Region (China, Taiwan, Hong Kong, Macao, Singapore, etc.)
SERVICE GUIDE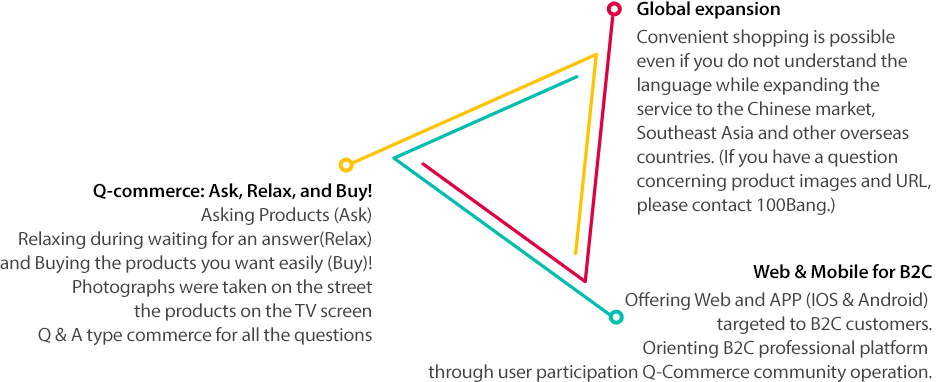 SERVICE PROCESS

MARKETING
SNS

Oral marketing through top SNS as China WeChat, Weibo and etc.
Southeast Asia and global target Facebook, Instagram operations
Community

By Affiliate marketing with globally famous community platform,
Introducing Korea shopping mall, brand, products and progressing sales events.
Operating 100Bang x 100girl Public Relations Ambassador (Wang Hong marketing, Influencer marketing etc.)
Brand & Product

Affiliate Sales & marketing Affiliate with
Korean online shopping mall/ USA purchasing agent services